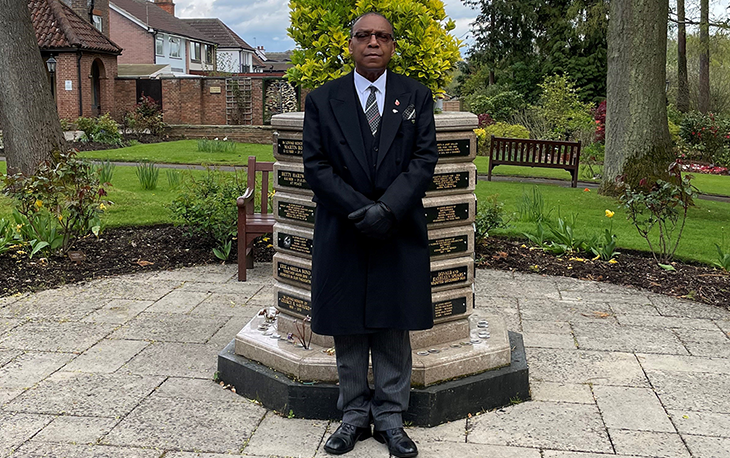 A Funeral Director whose career began with an impromptu trial shift is now celebrating 20 years in the business.
Sam Bryan had left his job at a courier company when he answered an advert for a Funeral Service Operative at Woking Funeral Service back in 2003.
With Sam having dressed in appropriate attire for the interview, the-then manager invited him to help out and see what the job entails because they were so busy.
After sufficiently impressing the manager, he was offered the job full-time shortly afterwards.
He has remained at Woking Funeral Service, now part of the Funeral Partners family of businesses ever since and has worked his way up to the position of Funeral Director, conducting and leading funerals across the Woking branches in Woking town centre, Horsell and Knaphill.
Having grown up in Barbados before moving to the UK in the 1960s, Sam said there was a deep-rooted respect for undertakers on the Caribbean Island, which attracted him to the profession.
"It means that I can give a little back to my community," he said.
"When I am wandering around the supermarket, and someone recognises me and thanks me for what I did, that's an honour, and a really nice feeling knowing I have helped and supported someone.
"If I can get somebody to say 'Sam, you made a difficult day more bearable' then that is great, I feel personal satisfaction that I have made a difference for that person and their family.
"I always say to people I can empathise with you, but I don't know how you feel, because the loss of a loved one is always deeply personal."
Sam said he had noticed a lot of positive changes during his two decades in the industry, including the improvement of process, procedures, regulation and technology but believes the high level of service the team at Woking Funeral Service provide to their local community is as good as it has ever been and is proud to be part of the business.
"Live streaming has helped family and friends be a part of the funeral from anywhere in the world, we are able to offer greater choice for families on coffins, venues, vehicles and many personal touches to make every funeral unique," Sam said.
"And, most recently, there has been the introduction of regulation from the Competition and Markets Authority and Financial Conduct Authority for the sale of funeral plans to help protect our clients."
With a new granddaughter to support, Sam said he has no immediate plans to retire from the industry any time soon.
"I am very passionate and rewarded by my job.
"As long as I am fit enough to offer the same standard of service that I have over the years, I don't see why I cannot carry on for a bit yet."
For more information about Woking Funeral Service, visit https://www.wokingfunerals.co.uk/